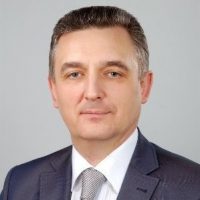 CEO
K-MINE
Academic achievements
1992 - Graduated from Kryvyi Rih Mining Institute (Kryvyi Rih Technical University)
1995 - Candidate of technical sciences
2007 -Doctor of Technical Sciences
Professional achievements
Mykhailo Nazarenko began his career in 1995, as the director of KRYBBASSAKADEMINVEST (KAI), under his leadership, the company took a leading position in the development and implementation of information technology. Professional activity and interests: geoinformation technologies, mathematical modelling of mineral deposits, geological and economic evaluation of deposits, design work of the mining and geological field, automation of mineral extraction and processing, integrated production management systems.
15.09.2021 11:30 - SESSION 4 | Online
Improving the efficiency of production and business process management at Sovrudnik LLC with K-MINE
To standardise and optimise production and business processes, Sovrudnik successfully uses the automated mining management system K-MINE.
With the help of K-MINE, digital models of mineral deposits have been created. In a virtual environment, in particular, predictive parameters of the volumes of exploded blocks, the consumption of explosives, the design of massive explosions, cost indicators, and much more are determined.
Thus, the Sovrudnik company has standardized the processes of maintaining a geological and surveying database, creating projects for massive explosions in the conditions of shift work with intensive drilling and blasting operations.