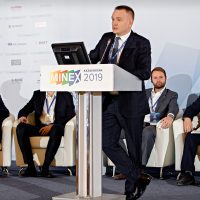 MINEX Kazakhstan offers excellent opportunities for the presentation of mining market reports, changes to legislation, and case studies of the implementation of technical and investment project; and for organising technical masterclasses, and even, attracting the participation of the audience in the discussion of the challenges and changes facing the mining sector of Kazakhstan and the countries of Central Asia.
Presentation Opportunities
Technical talks examples:
Theme: "The Digital Transformation of Kazakhmys Holding"
Speaker: Alexander Grevtsev, IT Director, Kazakhmys
Audience: Operations managers
Theme: "Modern Advances in Mineral Exploration – Leveraging Technology in the Discovery of New Deposits"
Speaker: James Gilbertson, Principal Exploration Geologist and Managing Director of SRK Exploration Services
Audience: Exploration directors[/vc_column_text][/vc_tta_section]
Thought-provoking panel discussions are held during plenary and technical sessions and as independent sessions. They offer opportunities to share thoughts and ideas via moderator-led dialogue on the range of themes e.g. regulation, investment, business practices, education, etc. Panel discussions last from 30 to 60 minutes.
Roundtable: "Mining industry 4.0: Education-Research- Business"
MineDigital competition of mining digitalisation technologies, equipment and projects will be organised as part of the Mining Goes Digital Conference.
MineEco is the The 1st competition of social and environmental projects in the mining industry of Kazakhstan.
In addition to traditional presentations, speakers can present their views by answering questions in video interviews. An interview can be organised either on stage with the presence of live audience (as with TV debates) or in one-on-one private interview format. Both private and public interviews can be recorded on video and published on MINEX Forum YouTube channels in the open or restricted viewing formats.
Interview examples