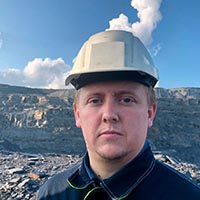 Aleksey Nesterenko
Director, Operational Excellence Group
KPMG
Alexey has been working for twelve years to improve the efficiency of production companies in Russia and the CIS, mainly in the mining, metallurgical, and oil and gas industries.
Aleksey and his team help companies in increasing production and reducing costs, in particular, as a result of reasonable application of modern technologies.
Aleksey is a member of the jury of KPMG What the Tech Digital innovation award – a contest organised jointly by KPMG and Skolkovo Foundation. The contest is aimed at identifying and accelerating IT startups whose innovative solutions transform traditional business into digital business and allow to significantly reduce costs and/or increase companies' revenues in comparison with the traditional business model.
Aleksey is a practising specialist in technologies implementation and efficiency improvement. His team has delivered more than 20 optimisation projects over the last three years. Each project included feasibility analysis of implementing both tried and cutting-edge technologies for the purpose of achieving the best business result for the company. In addition, Aleksey is a KPMG innovation leader testing and implementing new technologies in his team's work and in projects implementation.