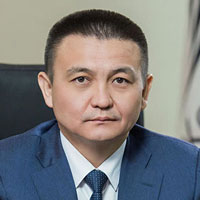 Kanat Kudaibergen
Chairman of the Board, Member of Board of Directors
National Mining Company "Tau-Ken Samruk"
Citizenship: Republic of Kazakhstan
Date of birth: June 3, 1979
He graduated from the Al-Farabi Kazakh State University (2000), specialty – Jurisprudence. He obtained the Master's degree in Public and Municipal Governance. Qualified in MBA International Management, Geneva Business School and MBA Mining Management, NUST Moscow Institute of Steel and Alloys.
2007 – Leading Specialist of Legal Department in Trade and Transport Company LLP, JSC NAC Kazatomprom.
2010 – Chief Manager – Head of the Legal Department.
2011 – 2015 – held executive positions in the structure of JSC NAC Kazatomprom.
2016 – General Director of Karatau LLP, JSC NAC Kazatomprom.
2018 – Managing Director of the "Uranium Mining" Division of JSC NAC Kazatomprom.
Since April, 2018 – Chief Executive Officer - JSC NMC Tau-Ken Samruk.
13.09.2021 11:30 - Plenary Session 2 | Sary Arka 1 Hall
Development of the junior market. Junior Mining Financing Program.
Since 1990, more than 65% of all deposits in Kazakhstan have been discovered by junior mining companies. The adoption of the Subsoil Code creates favorable investment conditions for the emergence and development of such companies. Tau-Ken Samruk sees the prospects of mutually beneficial cooperation with junior companies, which will contribute to the development of the entire mining and metallurgical industry of Kazakhstan.