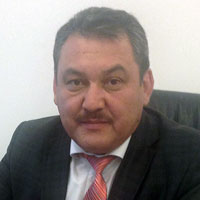 Zhomart Aliyev
Deputy Executive Director
Republican Association of Mining and Metallurgical Enterprises
Education: Kazakh Polytechnic Institute named after Lenin (1993) (qualification: mining engineer); Mining School of Paris (France, 2003) (qualification: state administration in the mining industry); Kokshetau University named after A. Myrzakhmetov (2007) (qualification: lawyer).
2010-2012 – Chief Expert of the Committee of State Inspection of Oil and Gas Complex at the Ministry of Oil and Gas of the Republic of Kazakhstan
2012 – 2015 – Deputy Chairman of the Committee for Environmental Regulation, Control and State Inspection of the Oil and Gas Complex – Chief State Environmental Inspector at the Ministry of Energy of the Republic of Kazakhstan;
2016 – Head of Environment Department for the Karaganda region of the Committee for Environmental Regulation, Control and State Inspection of the Oil and Gas Complex at the Ministry of Energy of the Republic of Kazakhstan;
July 2016 to June 2017 – Deputy Chairman of the Committee for Environmental Regulation and Control – Chief State Environmental Inspector at the Ministry of Energy of the Republic of Kazakhstan;
2017 -2019 – Environmental Specialist of the Implementation Group of the World Bank's project titled "Increase of Energy Efficiency in Kazakhstan" at the Electric Power and Energy Saving Development Institute JSC;
From 2019 – Deputy Executive Director at the Republican Association of Mining and Metallurgical Enterprises.
14.09.2021 09:30 - Plenary Session 2 | Sary Arka 1 Hall
The new environmental code in the Republic of Kazakhstan – basic principles and mechanisms for their implementation
In June 2018, the Concept of the draft Environmental Code of the Republic of Kazakhstan (hereinafter - the Ecocodex) was adopted and this year the draft Ecocodex was submitted for the approval of the legislators.
Currently the Ecocodex is under consideration in the Mazhilis of the Parliament of the Republic of Kazakhstan.
The Ecocodex addresses pressing issues for the mining and metallurgical complex, such as the implementation of the Best Available Technologies, obtaining integrated environmental permits, processing mining waste, etc.