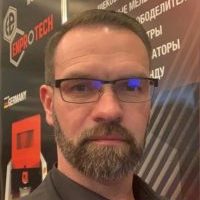 Viktor Popov
Commercial Director
EnProTech
Born in 1975 in Chernivtsi, Ukraine, from where he moved to Germany for permanent residence in 1992.
After receiving secondary education in Ukraine and graduating from high school in Germany, in 1998 he employed in the Management Department in one of the production companies in the field of security.
In 2002 he joined the Department of Economics at the University of Hamburg. Having successfully graduated from the University and obtaining a master's degree in 2006, he joined the German government as a consultant on the organization of labor processes and personnel management.
In 2010, he took up the position of Development Director at the company Brug Consult and Engineering, that is engaged in equipping industrial enterprises in Russia and the CIS countries.
At the beginning of 2015 he founded BrugTech GmbH, Hannover, that specializes in equipping laboratories of mining enterprises in Russia and CIS countries.
At the end of 2015, together with a Russian partner, he founded EnProTech Ltd, Saint Petersburg, where he currently holds the position of Commercial Director.
14.04.2021 16:30 - Business Podium (Open Event) | Sary Arka 3 Hall
Homogeneity+Quality+Accuracy=OREAS!
Australian company ORE Research & Exploration is famous CRMs manufacture in the world. EnProTech Ltd is an exclusive representative of ORE in Russia and CIS countries.
Certified Reference Materials (CRMs) – reference materials that are characterised by metrologically valid procedures for one or more specified properties and which are accompanied by a certificate providing the value of the specified property, its associated uncertainty, and a statement of metrological traceability.
CRMs are very important in laboratory and geological researches. Many leading world mining companies use OREAS CRMs in their work. For example Valve, Rio Tinto, Glencore, Newmont, Kinross, Freeport, Gold Fields, Polymetal, B2Gold, Newcrest, etc., and also many commercial laboratories.
OREAS CRMs consist of natural geological materials and in comparison with the competitors cover a lot of types of mineralization. There is also experience of CRM production from tails, concentrates (copper, zinc, lead, nickel) and connected with them metallurgical products.
The most important factor in choosing CRMs is the accuracy of the certified values, low standard deviations, homogeneity and secure packaging. OREAS includes all.
OREAS does not stand still and regularly updates its product line.