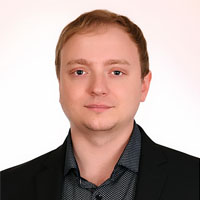 Victor Spirin
Senior Geotechnical Engineer
SRK Consulting (Russia)
Viktor graduated in 2008 from Siberian Federal University (Krasnoyarsk) as a mining engineer-surveyor. Since 2009 Viktor has been working in the field of geomechanics, initially with for Polyus Gold and currently for SRK Consulting, on projects for open pit and underground mining. His areas of specialisation include rock mass deformation monitoring, and analytical calculations of the slope stability in accordance with both traditional Russian standards and modern best practices.
13.09.2021 15:00 - Technical Session 3 | Sary Arka 3 Hall
Regulation of open pit slope stability in Russia
This topic is dedicated to the development and updating of the regulation documents on stability of open pit slopes and dumps in Russia, considering the Russian and International experience adapted to the Russian conditions and legal structures, focused on using innovative technologies.
The Rules for the Stability of Benches and Slopes of Open Pits and Dumps in Russia were developed due to the obsolescence of the current regulation, which created unjustified difficulties in the development of design documentation and its expert review. The past decades have seen significant changes in the mining and geotechnical situation in open pits, and many new software systems and digital technology have appeared. The capabilities of experimental methods for collecting initial data, processing, substantiating the acceptable parameters of open pits have changed and, therefore, risk assessment has become more sophisticated. In Russia, many companies are preparing documents in line with international standards.