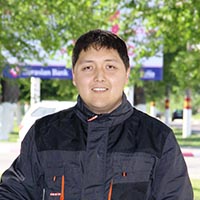 Shattyk Abdykalykov
Youth Policy Manager
Eurasian Resources Group
Education:
Economy, Electric Power, Maintenance and repair of mining electromechanical equipment.
Professional development courses:
1. Education in the School of Political Management of the party "NurOtan"
2. Private institution "Kazakhstan Center of Mediation"
Negotiation skills for members of the conciliation company "
3. System of sustainable development of the enterprise
4. Resolution of labor disputes - CONTO LLP
5. Business simulation "Mining Economics"
Participation in conferences:
1. 14th international conference Nomination: Originality of development. Section: Labor Protection
2. 1 international scientific and technical conference. Nomination: Originality of development. Section: Information Technologies
Promotion:
1. 1. The best young employee of SSGPO JSC in 2018
2. Winner of the Golden Book of the city of Rudny in 2018
3. Chairman of the Youth Council of the ERG group of companies
4. A letter of thanks from the Trade Union Committee of SSGPO JSC for active participation in the trade-union life of the enterprise - 2013.
5. A letter of thanks from ERG for the active participation of the corporate action "Nauryz - month of good deeds"
6. Diploma for cooperation in training and education of the adolescent generation
Social, socially significant activities

1. Strengthening and development of youth initiatives in the workplace.
2. Formation of the personnel reserve of the enterprise from among the youth.
3. Assistance in adapting newly adopted youth,
4. Creation of youth production teams
5. Prof. Work