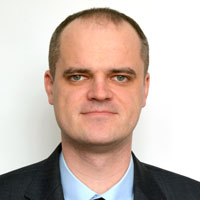 CTO
K-MINE
In 2005, he graduated from Kryvyi Rih Technical University.
He began his career in 2005 at KRIVBASSACADEMINVEST. He has also progressed from a specialist to the chief technical officer.
He participated in development of many important technological solutions and modules of GIS K-MINE. Professional activity and interests: geoinformation technologies, automated mining management systems, simulation modeling.
13.09.2021 10:30 - MineDigital | Sary Arka 3 Hall
The system of end-to-end work planning of the main shops of the mining and processing enterprise
The experience of the development and implementation of automated systems for end-to-end planning of the main workshops of a mining and processing enterprise is presented. The sequence of the main business processes that affect the operation of the enterprise and the issues of integrated management of these processes are disclosed. The mechanisms of regulation of most of the technical and economic indicators of the work of the main divisions and stages of technological redistribution (for example, the volumes of extracted / processed ore, energy consumption, water, etc.) are shown at a given planning interval.
The goal of creating a system for planning the work of the main departments of the enterprise is to increase the efficiency of technological planning and production preparation processes to increase production profitability. The system also provides a reduction in the complexity of redevelopment operations, simplification of monitoring the implementation of planned indicators on the basis of the actual data of the enterprise and all its technological links.