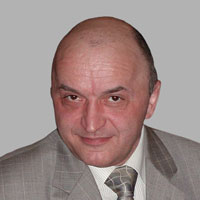 Sergey Negrey
Business consultant
Sum of the Technologies
Sergey graduated from the Nikolaev Shipbuilding Institute with a degree in electrical equipment of ships in 1981.
His professional career began at the nickel electrolysis workshop of the Nickel Plant.
1982 -1985 - First Secretary of the Komsomol District Committee.
1985-1995 Sergey worked at the Nickel Plant in various managerial positions - deputy head of the gas generator shop, deputy head of the kiln for reconstruction, technology.
1995-1999 - Chief Engineer at Norilsksnab.
1999–2014 - Chief Specialist, Deputy Head, First Deputy Head of the Production Department of the Polar Division of OJSC Norilsk Nickel.
From 2016 to present - Expert Consultant, Summa Technologies LLC.
Awarded with Honorary Diplomas of the Komsomol Central Committee and the Ministry of Industry of the Russian Federation.
Co-author of four inventions.
Creation of a Single Dispatch Centre Based on AVEVA Technologies. Russian and International Practice
Overview of solutions for creating a single dispatch center based on AVEVA technologies. Russian and international practice.