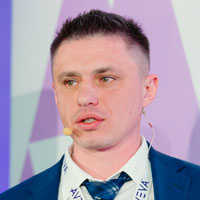 Sergey Mashin
Key Account Manager
AVEVA
In 2001 Sergey graduated from the South-Russian State Polytechnic University (NPI) where he qualified in engineering in chemicals industry.
Sergey started his career in TNK-BP where he worked in the role of key automation engineer for 5 years. Since 2006 until 2010 Sergey worked as project manager in Indasoft company.
In 2010 Sergey became Sales Executive for Wonderware Russia, and since 2014 until now he performs the role of Key Account Manager in AVEVA.
14.09.2021 09:30 - Mining Goes Digital Conference | Sary Arka 1 Hall
Value Chain Optimisation for MMM segment
Real-time operational performance monitoring
Integrated out-of-box performance management (reports, metrics, analysis, and planning tools for a specific industry)
Corporate integration: using existing investments in IT and OT infrastructure
Performance transparency at all production sites
Providing a coherent view of the business by functional groups
Hierarchies of related goals, KPIs, plans, and alarms