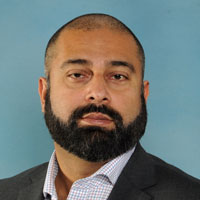 Director, Business Development
DGI Geoscience
Riaz Tejani is a business development professional at DGI Geoscience Inc., one of the largest in-situ services companies with operations spanning from Canada to Australia, encompassing Brazil, Kazakhstan, and the United States. DGI's partnership with regional service providers and consultancies has resulted in the introduction of borehole geophysics for Minerals Resource Exploration, and Geotechnical & Hydrogeological Investigation to Central Asia. He is a Engineering graduate from the University of Alberta.
14.04.2021 16:30 - Business Podium (Open Event) | Sary Arka 3 Hall
Borehole Data with a Purpose: The Subsurface Exposed
We strive to understand and make sense of the subsurface for our clients. Their challenges are our challenges. Whether our clients are trying to define and quantify their mineral resource, or understand the structure of their resource with greater accuracy, borehole geophysics can help. From providing virtual core to understanding fluid flow & permeability, borehole geophysics can help. Whether investigating fault zones, rock quality, far-field stress, static liquefaction of tailings dams and wear of paste backfill lines, borehole geophysics can help.
Borehole Geophysics Helps.