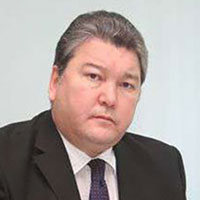 Nurlan Ryspanov
President
National Academy of Mining Sciences
Ryspanov N.B. graduated from the Leningrad Institute of Transport, mechanical engineer, KazNTU after K.I.Satpayev, mining engineer. After completing graduate school, in 1991 he defended a dissertation of a candidate of technical sciences at the MSTU named after N.E.Bauman. In the period from 1993-1998 Ryspanov N.B. headed the Research Center "Engineering" in Pavlodar, in 1998 - the Department of Industry, Transport and Communications, the Industry Department of the Ministry of Energy, Industry and Trade, from 2001 to 2015. He led the enterprise for the extraction of polymetallic ores at the "Shalkiya" deposit, from 2004 to 2005. He headed the company at the "Akdala" deposit in the South Kazakhstan region, in 2009 he was appointed Vice President of NAC "Kazatomprom", Managing Director for Science and Innovation, Chairman of the STC. In 2010 he successfully defended his thesis of Doctor of Technical Sciences at the D. Kunayev Institute of Mining. Ryspanov N.B. the "Law of heap leaching of metals" was derived, with obtaining the equation of ideal state of heap leaching of metals. In 2013, he was appointed Chairman of the Board of "Volkovgeologiya JSC", in 2012 he was elected a member of the IOC of the World Mining Congress, in 2016. - President of the National Academy of Mining Sciences, in 2018 - President of the Eurasian Academy of Mining Sciences. Ryspanov N.B. published more than 60 scientific papers, a monograph, a textbook, 14 patents, awarded with orders and medals.
13.09.2021 15:00 - Technical Session 3 | Sary Arka 3 Hall
Prospects for the use of closed mining systems
The use of closed mining systems provides for the creation and widespread use of technical means and technologies for the integrated extraction of useful components not only from poor and difficult in chemical and phase composition of ores, but also the development of processing technologies for underground and heap leaching (geotechnology) dump off-balance, substandard and ores and technogenic mineral deposits lost in the bowels. These technologies allow, without producing a large amount of heavy expensive mining, to obtain metal directly at the places of their occurrence and storage.
13.09.2021 15:00 - Technical Session 3 | Sary Arka 3 Hall