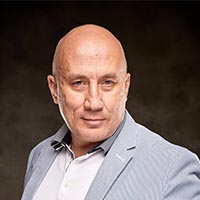 Nikolay Kamenskiy
General director
Two Key in collaboration with Esil Mining
Full member of the Academy of mineral resources of the Republic of Kazakhstan (Academic) and Fellow of the Public Society "Professional Society of Independent Experts of the Subsurface Resources" (PONEN) since 2016.
Over the last 16 years of successful work, the "Two Key" company under his leadership has won stable and significant positions in the consulting, engineering and geological services market, by rendering the full range of services in subsurface management, being guided by medium-sized and large companies for which objective, independent, accurate and high-demand information is the main factor.
15.04.2021 11:30 - MineInvest | Sary Arka 3 Hall
Aksoran Molybdenum-Tungsten Ore Deposit.
Aksoran molybdenum-tungsten ore deposit was discovered in 1990 and is located in the Sandyktausky district of Akmola oblast, 50 km South-East of the Bayansky field.
The study of the deposit did not allow to unambiguously interpret and link the identified ore veins to ore bodies and deposits.
Esil Mining LLP received a subsoil use contract, began exploration.
In 2016-2017  уmployees of Two Key LLP carried out a reserve calculation, in which the earlier established interpretation of ore bodies was revised.
Due to the high potential of the field to increase reserves on the flanks and along strike, the management of Esil-Mining LLP decided to carry out further geological exploration.
In 2018, based on the adjusted exploration project, exploration, technological and hydrogeological wells were drilled.
In 2019, reserves were recalculated according to KAZRC standards with an increase in reserves.
In 2020, the completion of the approval of the Mining Plan for the extraction of molybdenum-tungsten ores at the Aksoran deposit and the receipt of a Production License is ongoing.