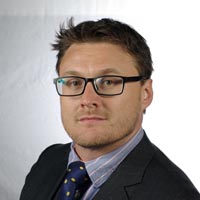 James Gilbertson
Managing Director, Principal Geologist
SRK Exploration
James has over 18 years of experience in target recognition and generation, exploration project design, management and supervision and Mineral Resource estimation of various deposit styles globally. James has worked with various SRK offices since 2005 providing major, mid-tier and junior mining/exploration companies with technical advice in exploration development. He and has specialised in orthomagmatic porphyry and epithermal mineralisation styles with extensive experience in South American (Chile, Peru, Ecuador), North American, Tethyian belt and Nubian shield examples. James act as an industry advisor to the FAMOS (From Arc Magmas to Ores) research programme developing new exploration tools particularly in porphyry related mineralisation styles.
James is a Chartered Geologist and Competent Person (CP) with the Geological Society London.
Within SRK Exploration, James' roles include exploration programme designs and reviews, Mineral Resource development programmes and project valuation and optimisation programmes and promoting modern advances and innovation in mineral exploration.
15.04.2021 11:30 - Mining Goes Digital Conference | Sary Arka 1 Hall
Effective Big, (and small), Data Usage - Ensuring your project is both data and information rich
Most projects and mining/exploration companies hold a huge quantity of data that is not being efficiently utilized. Coupled with the modern ability to collect big data during exploration and resource development programmes means that the effective utilisation of these data is now more important than ever