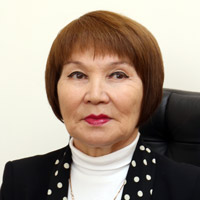 Gaukhar Turysbekova
Director of the Institute of Metallurgy and Industrial engineering
Satbayev University
Turysbekova Gaukhar Seitkhanovna - Professor, Corresponding Member of the "National Academy of Mountain Sciences".
Graduated from the KazNRTU named after K.I.Satpayev (formerly KazPTI), Moscow Institute of Steel and Alloys (MISaA, graduate school) - Department of rare and noble metal ore dressing (supervisor Prof. S. Polkin) defended a thesis (MISaA) in metallurgy of gold.
Professor, Director of the Institute of Metallurgy and Industrial Engineering (IMaIE). Conducts lecture courses in the following disciplines: "Technology of processing of uranium and gold-bearing ores", "Technology of heap and underground leaching", "Methods of scientific research", "Refining in uranium production, "Altyn Bayytu tekhnologii zhene fabrikalaryn zhobalau", "Extraction methods for processing productive solutions of uranium production"," Processing of gold and uranium ores "," Tailings and wastewater treatment "," Processing of technogenic raw materials ", etc.
Prof. Turysbekova G.S. From 2011 to the present is a member of the UN expert group on the classification of mineral resources (Geneva, Switzerland). Gave a speech at international conferences in Europe (Czech Republic, Germany), China, UAE, Russia, Turkey, etc.
14.04.2021 15:00 - Technical Session 3 | Sary Arka 3 Hall
Prospects for the development of technogenic mineral formations and dumps
Wastes from the extraction and processing of ores from natural deposits are a reserve of economic efficiency. These formations can be considered surface deposits, the processing of which does not require complex mining and an energy-intensive crushing-grinding cycle.