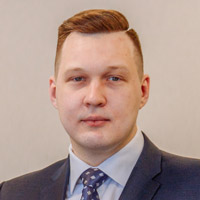 Evgeniy Prokopyev
Deputy Director for technology and innovation
SPIRIT Production company
Born on 25.11.1989 in the city of Irkutsk. Graduated with honors from Irkutsk state technical University in 2011. Mining engineer and a prospector. Graduated from graduate school of Department of mineral processing and environmental engineering of the Irkutsk national research technical University. Since 2004, he has been working at PC Spirit LLC, and is also an employee of the Institute of the Earth's Crust of the Siberian Branch of the Russian Academy of Science (Department of integrated use of mineral raw materials). Engaged in technological research of "Technologies for deep enrichment of mineral and man-made raw materials".
Research interests include mathematical and hydrodynamic research of the screw separation process, optimisation and development of flotation gravity enrichment of sulfide products on screw devices.
14.04.2021 14:00 - Technical Session 2 | Sary Arka 3 Hall
The practice of using screw separation technology in the enrichment of technogenic raw materials
Today, the most urgent issue is the involvement of technogenic deposits of ferrous, non-ferrous, rare and precious metals in processing. In the processes of primary concentration of the useful component, the screw separation method is widely used, based on the gravitational separation of minerals in a pressure-free pulp flow in fixed screw troughs.
The main technical and economic advantages of screw separation in the process of enrichment of technogenic raw materials are:
- environmental cleanliness of the process-reagents are not used;
- lack of rotating and moving parts, which causes a low cost of obtaining concentrates;
- high level of extraction of minerals with a size less than 40 microns;
- simplicity and visibility of the enrichment process, which allows you to quickly respond to changes in the material composition of the raw material and adjust the processing parameters.