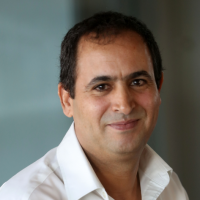 Dr Houcyne El Idrysy
Principal Consutant (Hydrogeology)
SRK Consulting (UK)
Dr Houcyne El Idrysy is a Principal Hydrogeologist with SRK and Chartered Geologist who has worked on diverse mining projects from permafrost to tropical environments around the world. He provided consulting services to several operating mines and carried out Feasibility Studies for various projects in Europe, Africa, Asia and South America.
Mine Hydrogeological Monitoring for the Digital Age
Water issues are a very import consideration for any mining operation whether it is too much water, not enough water or water in the wrong place. Therefore, efficient and cost-effective groundwater management and monitoring plans are required for mining companies.
The master-class will focus on current technologies used in monitoring groundwater at mine sites, covering the aspects of water level, water quality, and pore pressure in the pit walls.
Further, the presentation will outline how modern technology provide mining companies with the opportunity to continuously monitor groundwater and obtain real time data, and set out alarm system when necessary. Such information is essential in the early identification of risk triggers that allow mine operators to take timely risk response actions.