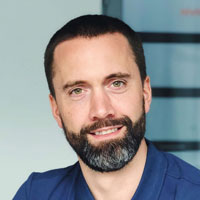 Dominique Rachez
General Manager for Central Asia
Aggreko Kazakhstan
In 2002 graduated from ICN Business School in France. Became a member of ACCA in 2012.
Dominique began his professional career at Ernst and Young in Paris, where for 5 years he supported international corporations, mainly in the cement industry, IT and retail.
In 2008, he was transferred to Ernst and Young's Moscow division, where he worked with the French business community in Russia and the CIS, managed a team of 90 people and a portfolio of over 40 clients.
In 2013, he was appointed Financial Director at Aggreko Eurasia LLC and became responsible for finance, IT, procurement and internal control in Russia and the CIS. Aggreko is a world leader in providing flexible mobile solutions for energy supply, industrial cooling and heating for various industries, while having significant experience in Russia and the CIS and specializing in providing energy supply to isolated territories in the mining sector, oil and gas industry and electric grid industry.
In 2016, he became the General Manager in Central Asia, ensuring the growth of existing business in the region and developing it in new territories, which include Uzbekistan.
From January 2020 - General Manager for Central Asia and GUTA (Georgia, Ukraine, Turkey and Azerbaijan)
14.09.2021 16:30 - Business Podium (Open Event) | Sary Arka 3 Hall
Aggreko. Energy supply and temperature control.
The history of Aggreko dates back more than 55 years. The company offers rental equipment and climatic equipment for the oil and gas and petrochemical industries, mining, construction industries, utilities, shipbuilding, and major events.
Flexible and mobile solutions provide quick connection and configuration, and the client begins to make a profit "today". At the same time, he saves on construction work, laying communications and additional employees.
The report will cover such topics as: Aggreko innovations, new technologies, integrated solutions for remote fields and industrial enterprises.