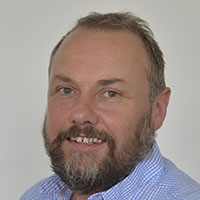 Technical Director - Geology and Resources
Wardell Armstrong International
Senior Geologist with over 20 years' experience in the minerals and mining industry. Engaged in mining consultancy since 2005 and involved with exploration programme design and supervision, mineral resource estimation and QA/QC audits, peer reviews, technical due diligence, scoping studies to feasibility studies, Competent Person's Reports (CPR), and NI 43-101 Technical Reports for industrial and metalliferous minerals within Europe, Russia, Central Asia, Africa, South America and the Middle East.
15.09.2021 11:30 - MINING GOES DIGITAL – Plenary Session 2 | Sary Arka 1 Hall
Underground Robotics – Autonomous Surveying
Mine surveyors are responsible for maintaining an accurate record and survey of underground mine workings in order to ensure that mine development is accurate and on-plan, to monitor the mined out stopes, and to keep a record of the mining operation as a whole. This data is typically used as part of the production record and for reconciliation against the estimated ore reserve and production data. However, conventional data gathering in underground mining can be infrequent, inaccurate, hazardous and often impossible due to complex tunnel systems, harsh atmosphere, and dangerous ground conditions. Advanced data collection and mapping is critical in GPS-denied environments in which the cost of downtime and injury can exceed millions per year per mine.