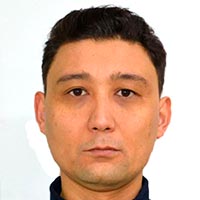 Baurzhan Ultarakov
Chief geologist
Karabaybulak GOLDMINING
Baurzhan Ultarakov - born in 1982, married 2 children.
Education:
Graduated from Kazakh National Technical University named after K.I. Satpayev's specialty is geological surveying, prospecting and exploration of mineral deposits
Graduated from Almaty Institute of Energy and Communications, Qualification and academic degree - Master in Life Safety and Environmental Protection.
Professional career: 
Baurzhan began his career as a junior researcher in the Laboratory of precious metals of the Institute of Geological Sciences. K.I. Satpayev.
Head of the detachment of FDI Kazdorproject LLP
General Manager of the Department of Subsoil Use and Land Relations of JSC NC OTtustik SPK
Deputy Chairman of the Management Board of Ushger Mining and Chemical Company
Deputy Chairman of the Management of Mining and Metallurgical Company JSC Irisu
General Manager of the Asset Management Department of JSC " NC "SEC" Shymkent "
Deputy Director of SamNuR and K LLP
Geologist of the Representative Office of Polymetal  in the Republic of Kazakhstan.
Leading geologist of the Department of Geology of Kazgeology JSC.
Director of the Geological Prospecting Department, Kazakhmys Barlau LLP (Kazakhmys Barlau).
Total work experience 16 years.
Geological research at the Karabaibulak ore field in the Sozak district of the Turkestan region.
Geological features of the formation of gold ore objects in Northeast Karatau by the example of the Karabybulak ore field. Methodology for conducting search work.