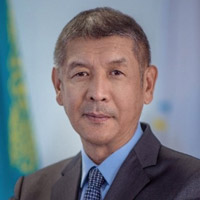 Baurzhan Duisebayev
Member of Presidium of NAMS
National Academy of Mining Sciences
Dr. Baurzhan Duisebayev deal with and writes about the different technologies for effective extraction of metals from poor ores or wastes.
Dr. Duisebayev has been a science leader in both the private and state own scientific institutes and centers for over 30 years.
He coordinated all research programs of the National Company Kazatomprom in 2001-2014 years.
Dr.Duisebayev has authored or co-authored 40 technological patents, 80 scientific articles.
Dr. Duisebayev graduated Tomsk Polytechnical University (TPU) in 1982, defended candidate of science dissertation in 1985 in TPU (Russia) and doctoral dissertation in 1997 in Irkutsk Polytechnical University (Russia).
14.04.2021 15:00 - Technical Session 3 | Sary Arka 3 Hall
Closed chemical cycles for processing ore and man-made raw materials
Presented theoretical ideas and practical developments to create chemical waste-free cycles of the new generation for processing various complex raw materials