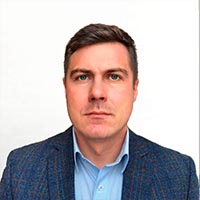 Alexander Kleymyuk
Technical DIrector
MUD MASTER
Alexander Kleymyuk is the Technical Director of MUD MASTER LLC. Alexander has a degree in chemical engineering and begun his career at Halliburton in their drilling fluid laboratory. During his career, he was a representative of Baroid IDP in Russia and further engaged in the development of new solutions of drilling fluids for mineral exploration drilling. He developed new drilling fluid types which have been successfully used in Russia, Kazakhstan, Australia, South Africa and other countries. Currently He is a high-grade specialist of drilling fluids of various types of drilling.
13.09.2021 16:30 - Business Podium (Open Event) | Sary Arka 3 Hall
New Drilling Fluid Technologies for Mineral Exploration Drilling
The newest solutions of Mad Master in the field of drilling fluids for mineral exploration drilling. The principle of operation of single-component polymer fluids and their combination with Lost Circulation Materials.