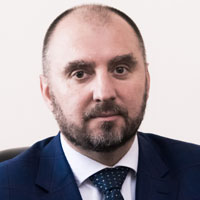 Aleksander Grevcev
CIO
Kazakhmys Corporation
Management experience in telecommunication companies for over 23 years. Aleksander has management experience in organising new businesses and also has practical knowledge in modernisation and optimisation of enterprises and the development of regional divisions. While working in the telecommunication sector, he was engaged in opening or reorganizing the work of representative offices of international telecommunication companies in the CIS countries.
He took part in the government-sponsored projects, for example, "Electronic City of Moscow", and also participated in the development of the concepts of "Smart Astana" and "Safe City". He has been involved in the development of the"Digital Economy" program projects , in particular, the creation of B2B platforms.
In the industrial sector he was involved in the development and implementation of integrated security systems, telecommunication projects, data storage systems, asset management systems, etc.
Previously he has been working at Ernst & Young, Pragma Corporation and Booz-Allen & Hamilton. He led the team of consultants in Central Asia working on the project "Mass privatisation". He established offices in 19 cities of Kazakhstan. The department employees provided consulting services for Kazakhstani companies and preparing reorganisation, development and sales strategies, as well as developing business plans and optimising financial management systems. He created a system for collecting and processing information when selling state blocks of shares.
15.09.2021 09:30 - MINING GOES DIGITAL - Plenary Session 1 | Sary Arka 1 Hall
Digitalisation of production processes
In recent years, Kazakhmys Corporation have completed the construction of an underground communications infrastructure, and today is introducing automated production and process control systems.
The efficiency and completeness of using all the information available at the enterprise level is determined by the use of information technologies, which can be called one of the most powerful tools for business development.
Under the conditions of market development, an important component for each organisation in the mining and geological sector is an increase in production efficiency, cost reduction, and the creation of optimal conditions for organising field work for employees, where industrial safety and labor protection is the most important component.
In accordance with the plan for success in digital transformation, Kazakhmys Corporation is considering the implementation of the concept of Industry 4.0 to create a "Digital Enterprise". Digitalisation should cover all production processes, from extraction, processing, transportation and with the production of finished products, where all data on operational processes, process efficiency, product quality are available in real time. At the same time, advanced technologies are used to collect, process and transmit objective data with subsequent integrated planning and automatic control of the execution of planned tasks.
15.09.2021 14:00 - MineDigital Competition finals | Sary Arka 1 Hall